How it works
Our Care Center assistance is available when family members can't be - 24 hours a day, 365 days a year.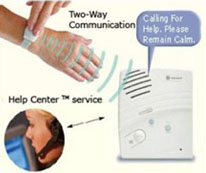 1.

Press the personal Call Button, and My Medical Alert system automatically dials the Care Center.

2.

A trained Help Advisor answers and talks with you over My Medical Alert systems build-in speaker phone.

3.

The Help Advisor calls for emergency assistance and phones family members, friends or neighbors.

4.

Your Help Advisor stays on the line with you until help arrives.
In a potentially hazardous situation, our members are encouraged to contact our Care Center by pressing their personal help buttons. Within seconds, our friendly Care Monitor will attempt to make voice contact over the 2-way voice Care Communicator. We will monitor the situation to make sure our member is safe and secure. If it is necessary, we will call the local police or sheriff's department or EMS to request assistance.
Expand Your Safety Net
For even greater protection, you can add special features like medication reminders, smoke detectors and carbon monoxide sensors. There are activity sensors that send a call for help if you're not moving around as much as usual. You can even add freeze and flood sensors to protect your home when you're away.
What's your peace of mind and personal safety really worth?
Experience knowing that help is always there. Live at home more freely and independently with My Medical Alert
Reassurance & Peace of Mind
Security
Quick Response
Independence
Freedom to Stay at Home Longer!
Examples:
A stranger at the door
Hearing noise at night
Ascending & descending stairs
Inclement weather; i.e., local flooding, tornado
Walking to the mail box in rain or snow
Feeling faint or dizzy
Arriving home after dark
Concerned about taking medication; i.e., insulin
Assistance for another family member or friend
Personal Emergency Response System which includes a 2-way communicator, a waterproof help button, and 24/7 monitoring.
Additional Resources:
Medical Alert System
Everyday Free Shipping
Medical Alert System includes two way speaker base, 100% waterproof necklace or wrist band and 24 hour monitoring care with no additional fees! Monthly, Quarterly and Annual Plans.
HIDDEN FEES (Absolutely None)
800 Foot Range
Works with land or cable VoIP phone lines!
Emergency backup battery up to 80 hrs
100% Waterproof Help Button
45-Day Money Back Guarantee
Choice of necklace or wrist pendant
Spouse monitoring is free.
AARP/AAA/Veteran Discounts Included
USA Call Center
Free Lifetime Warranty
Request a Free Brochure
Monthly, Quarterly and Annual Plans