About Us
Whether it be getting assistance, providing reassurance, or just a friendly voice, we're there when others can't be, and happy to speak with a "member" at anytime. Our members are all a part of our extended Care Center family. "We are just a touch of the button away."
Shipping Information
All orders are shipped UPS Ground the same day if received by 2 PM EST.
Most orders arrive in 3-5 business days.
Overnight shipping available on request for an additional charge.
Refund, Returns and Cancellation Policies:
We offer no long term contracts, "Cancel Anytime" policy with a 45 day money back guarantee.
Call our toll free number By phone: 800-777-1212 - 24/7 Mon-Sun for sales.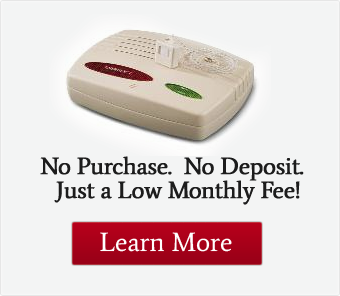 Medical Alert System
Everyday Free Shipping
Medical Alert System includes two way speaker base, 100% waterproof necklace or wrist band and 24 hour monitoring care with no additional fees! Monthly, Quarterly and Annual Plans.
HIDDEN FEES (Absolutely None)
800 Foot Range
Works with land or cable VoIP phone lines!
Emergency backup battery up to 80 hrs
100% Waterproof Help Button
45-Day Money Back Guarantee
Choice of necklace or wrist pendant
Spouse monitoring is free.
AARP/AAA/Veteran Discounts Included
USA Call Center
Free Lifetime Warranty
Request a Free Brochure
Monthly, Quarterly and Annual Plans